Our history of projects over the last 15 years can testify to this: restaurants are privileged spaces where it is important to « create a space » that is pleasant and attractive so that customers are attracted at first and then have a good time in the second. All the more so as the variety of styles is infinite and the art can be adapted to radically different gastronomic universes.    We will discuss here three catering universes where we have created mural frescoes in a state of mind adapted to the desired atmosphere, in harmony with the place, the clientele and… the plate!
Restaurant « the Préaumur »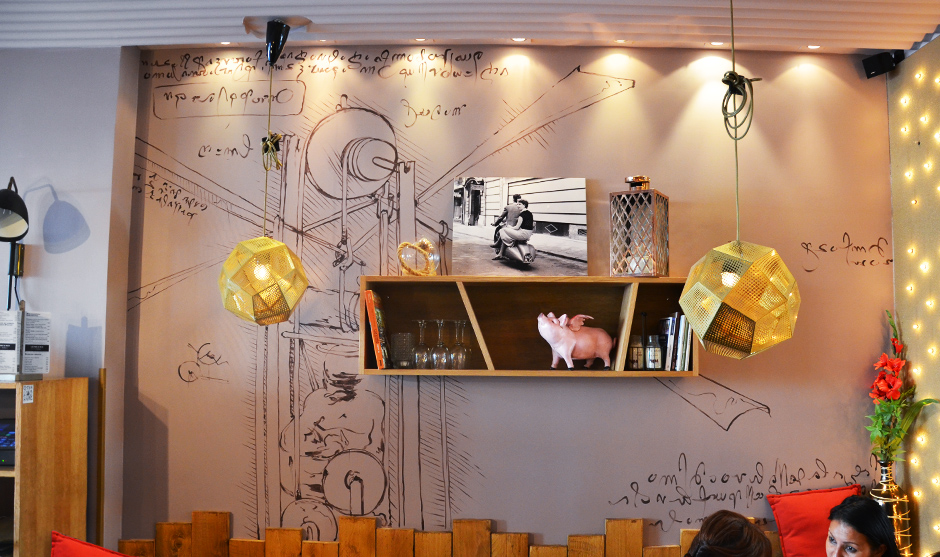 This is one of the wall decorations that we have done entirely with a brush. The idea was to transform the walls of this establishment, which overlooks the Place de la Bourse, into a huge drawing book, where customers would find themselves immersed in Leonardo da Vinci's sketches. Don't worry, we don't take ourselves for Da Vinci, but our artist modestly tried to draw inspiration from his sketches to create an atmosphere in shades that blended very well with the interior decoration of the place.
This project is a good example of the fact that you don't necessarily have to do « too much » visually to have a pleasant and elegant decoration. A place where you eat is not exactly the same as an art gallery. We are not in a blank  » square  » where the artist's creation  » occupies  » the space and takes precedence over everything else. On the contrary, the mural is only one piece of the puzzle (an important one, certainly) that needs to fit perfectly with the other elements that will help improve the customer experience.
Ben's bar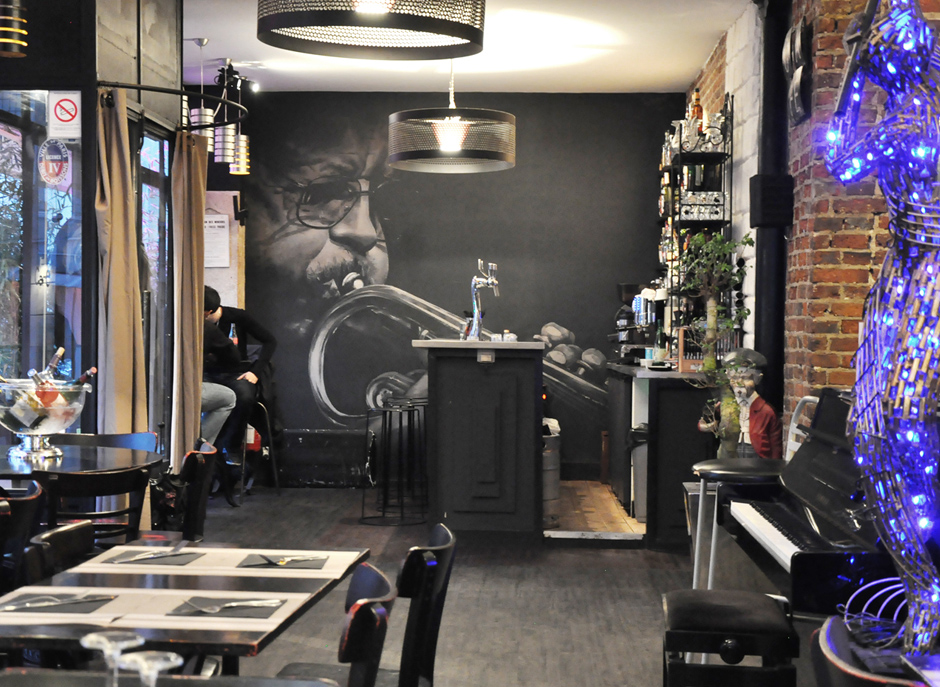 This place is actually closer to a bar than a restaurant, but you can eat there very well. This friendly, family-oriented address in the center of Paris wanted to have a trendy, relaxed place with a « jazz friendly » approach. A piano stands in the center of the room and a small room is available in the basement for small concerts.
The decorative formula of « Chez Ben » is simple but rather effective: furniture and decoration rather modern and sober BUT with art tips. A sculpture here, a painting there. After careful consideration with Ben, the master of the place, we decided to create a huge portrait of a jazz man. And as it's not too easy for us, we didn't make another Louis Amstrong but rather a more confidential musician of German experimental jazz… Yeah, we know it sounds cool to say it but we really didn't know anything about it, we just liked his face! In general, we don't recommend portraits for restaurants except when the distance, the configuration and the tints used allow it : you need an alignment of the planets ! 
The Brother's table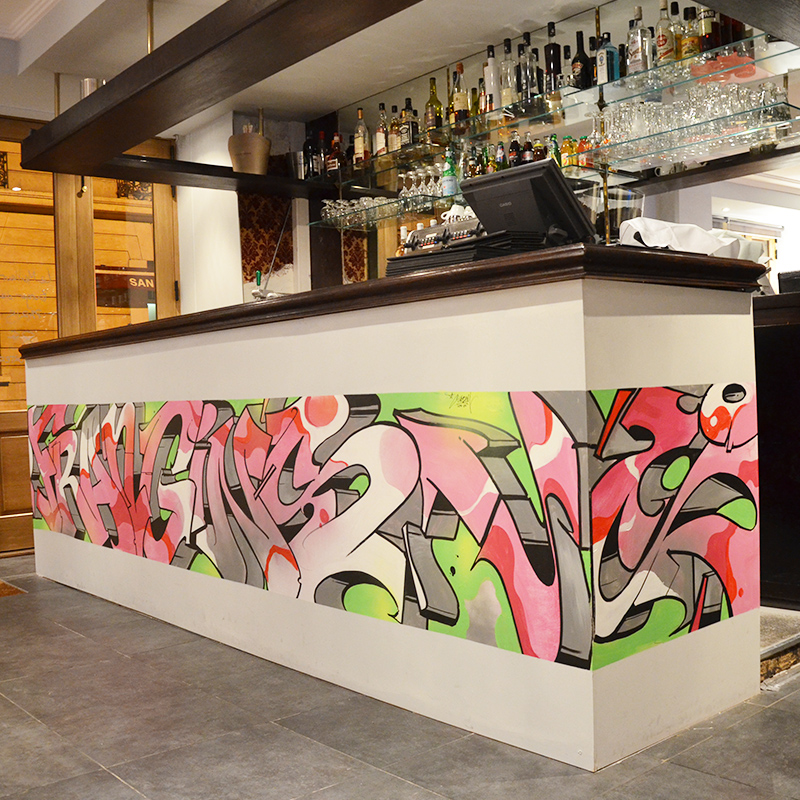 In Paris, if you want to eat excellent homemade burgers, you have a wide choice. On every street corner you'll find a restaurant owner who won't hesitate to describe his burgers as « the best burgers in Paris », and by dint of hearing it, you get a little lost… But let's get back to the decorative and creative aspect of this little Parisian address (we LOVE small Parisian restaurants).
The room has (like many others) a large white bar just in front of the entrance. The young owners, two brothers who had just taken over the business, wanted to make a very old school and colorful graffiti. So much for what you wouldn't expect to find in an establishment of this type in the 16th Arrondissement of Paris! At first, we were puzzled. But in the end, why not? The first condition for a decorative mural to be effective is to be absolutely consistent with the personality of its owner, and the atmosphere he wants to create. Especially since the strategy of painting something very eye-catching close to the entrance is rather clever. Why be « just like the others? « Why be « wise »? We answered this question.
Arpège company cafeteria
In contrast to the previous examples, this is a company cafeteria. And moreover, more than a company cafeteria because it is a large chain that is established within many large companies. We therefore had to deal with a contact person who already had a graphic charter, with a color code and a certain number of rules to be respected. The decorative solution which appeared to us to be the most interesting and the most « malleable » for this space is typography / calligraphy. It is one of the recipes that works every time and we are always very happy to bring it out in new contexts.