Al Serkal Avenue is an artistic and cultural neighborhood that is known as one of the most creative art platforms in the UAE.
It was established in 2008 by the Emirati business man Abdelmonem Bin Eisa Alserkal, and it was named after its founder.
The place is known for its wide and interesting activities, as its also contains various sections for entertainment, culture and learning programs.
The district is nonprofit organization that aims to enrich Dubai's artistic side through bringing local, regional and international visitors to the place, to observe the wide artistic and cultural opportunities that its ready to offers.
Diversity is what gives Al Serkal neighborhood its singularity, the more you want to know, the more you explore remarkable things about the area, it provides memorable cultural experiences for local, regional and international audiences.
Hosting group and solo exhibitions from renowned artists
The platform invites the world's most nominate artists to expose their works and share their creativities with local audiences.
The space is full of creativity and ingenuity that encourage its visitors to create art, and preserve their heritages and cultures.
Some local and international galleries have an access to the district, they organize exhibitions and participate as well in the most renowned artistic events in the place such as Al Serkal art week and more.
Every month, Al Serkal invites us into a unique experience with new artist, a very interesting moment that allow us to discover more about our middle east talented minds, whom we might not be aware of their masterpieces and their incredible skills they are ready to offer.
This month, the art space presents one of the most inspiring middle eastern artistic minds who has left a great and remarkable trace in the art community inside and outside the region.
Mohamed Melehi, a Moroccan painter, graphic designer and photographer, he has participated in various regional and international exhibitions, and he's known regionally for his art contributions and he's one of the most influence contemporary artists in the middle east.
Festivals, workshops, art talks and more at Al Serkal Avenue
The space promises its visitors to live impressive moments by offering numerous activities.
It organizes art talks, workshops for adults and kids as well, adding to creating an artistic environment in which local and international artists could be share and learn from each other.
In addition, it has a space for cultural debates, a platform that welcomes the difference of views and adopts every talent in order to enrich Dubai's development through diversity and art.
One of the renowned annual festival that's been organized at Al Serkal is "Art week", a week of exhibitions, commissions, performances and art talks.
The event didn't take a place this year due to the current situation, however, the platform is still active and organizes some events for limited numbers adding to its online shows and activities that's still offering to its audiences.
SAENDA SAID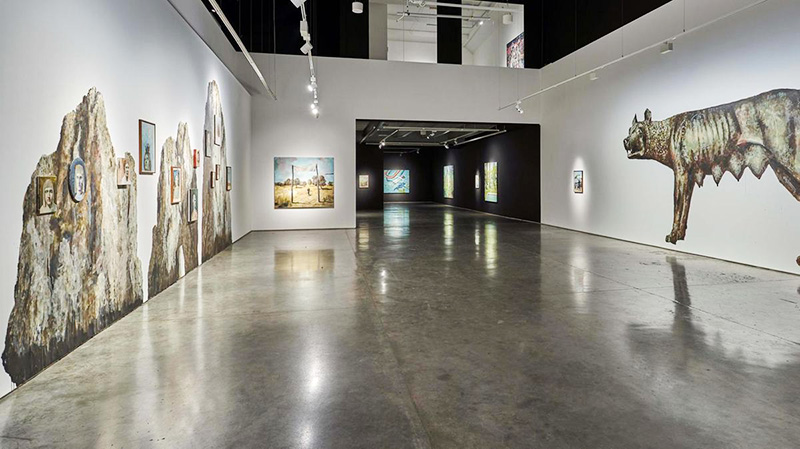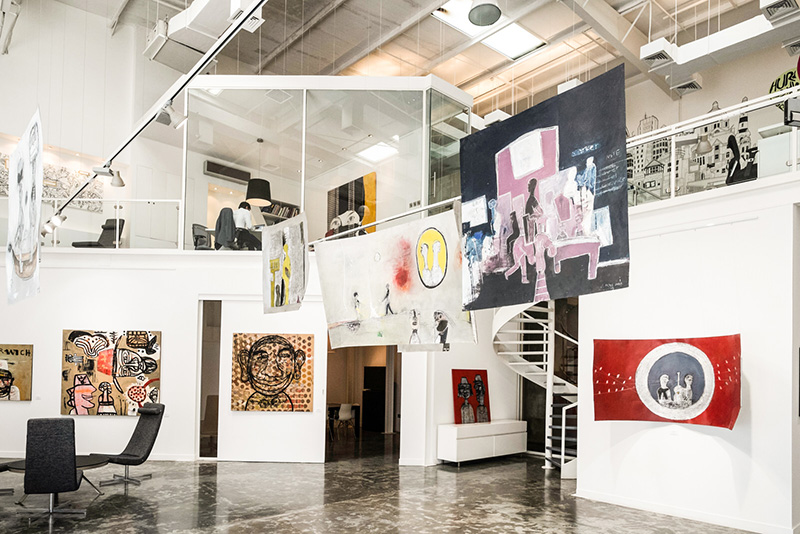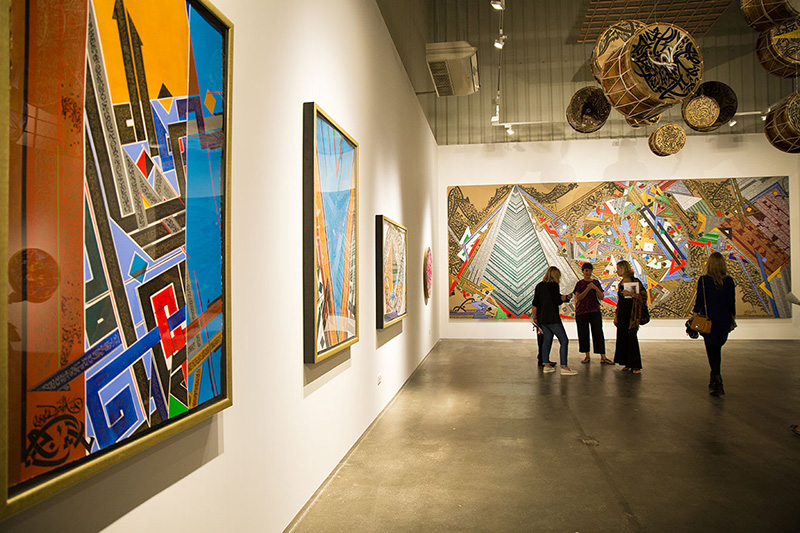 حي السركال في دبي « عندما يصبح الفن جزء من الثقافة« 
يعتبر حي السركال واحدة من الأحياء الثقافية والفنية الإبداعية في الإمارات,وقد تم تأسيسه عام 2008من قبل رجل الأعمال الشهير عبد المنعم بن عيسي السركال,وسميت المنطقة بإسم مؤسسها.
يشتهر المكان بأنشطتها الواسعة المثيرة للإهتمام,كما أنها تحتوي علي أقسام ثقافية,ترفيهية وتعليمية.
يعد المكان مجتمع فني غير رابح والذي يهدف إلي إثراء جانب دبي الثقافي عبر إحضار زوار محليين ودوليين للمكان لمشاهدة الفرص الفنية والثقافية التي تقدمها المنصة.
الأمر الذي يميز المكان عن غيره من المجتمعات الفنية لهو التنوع الموجود داخله,فكلما أردت أن تعرف أكثر كلما استكشفت المزيد عن أمور مبهرة متوجدة في المكان,حيث أنه يمنح تجارب ثقافية ملحوظة للجمهور المحلي والدولي.
إستضافة معارض جماعية وفردية لفنانين مشهورين
تقوم المنصة الفنية بدعوة أهم الرسامين الدوليين لعرض أعمالهم الفنية ومشاركتها مع السكان المحليين,إنه مكان ملئ بالإبداع والبراعة والذي يقوم بتشجيع زواره علي ممارسة الفن مع المحافظة علي التراث والثقافة.
تمتلك بعض صالات العرض الفنية مكانا في الحي,حيث تقوم بتنظيم معارض والمشاركة في أشهر الفعاليات الفنية التي تقام في حي السركال كفاعلية « أسبوع الفن« .
في كل شهر يقوم الحي بدعوتنا نحو تجربة فريدة مع فنان جديد,لحظة مهمة تسمحلنا بإستكشاف الكثيرعن العقول الفنية الموجودة داخل الشرق الأوسط والتي قد لا نكون علي دراية بالأعمال والمهارات التي تقدمها.
في هذا الشهر,يقوم الحي بتقديم واحد من الرموز االفنية المشهورة والمؤثرة والذي قام بترك علامة فنية كبيرة داخل المجتمع الفني للشرق الأوسط وكذلك خارج المنطقة العربية.
محمد مليحي ,رسام ومصور ومصمم جرافيك مغربي قام بالمشاركة في العديد من المعارض الفنية المحلية والدولية ,كما أنه مشهور بمساهمته في المجال الفني داخل المنطقة وذلك بالإضافة لإعتباره واحدة من أهم الفنانين المعاصرين داخل الشرق الأوسط.
مهرجانات,ورشات عمل ,حوارات فنية والمزيد في حي السركال
يقوم الحي بتوفير لحظات حماسية لزواره من خلال الكثير من الأنشطة,فتنظم حوارات فنية وورشات أعمال للكبار والصغار وذلك بالإضافة لإنشاء بيئة فنية حيث يستطيع الفنانين المحليين والدوليين المشاركة والتعلم من بعضهم.
يمتلك حي السركال مساحة للحوارات الثقافية,مساحة ترحب بإختلاف الأراء وتقوم بتبني كل موهبة وذلك سعيا لإثراء تطور دبي وتقدمها من خلال الفن والتنوع.
يعد أسبوع الفن واحدة من الفعاليات السنوية التي تقام في الحي,حيث يقوم بإستضافة المعارض والعروض الفنية المختلفة وكذلك الحوارات الفنية.
وبسبب الوضع الحالي,لم يقام الحدث السنوي هذا العام ولكن لا تزال المنصة نشيطة تنظم فعاليات لعدد محدود وذلك بالإضافة لبرامجها الفنية التي تعرض لجمهورها عبر شبكة الإنترنت.
سعيدة سيد.